Community Programs
Explore the Los Angeles LGBT Center's extensive range of programming—from helping to make workplaces more trans-affirming, to equipping you with the skills and experience needed to pursue gainful employment, to advancing LGBTQ+ policy initiatives, and beyond.
Community & Support Groups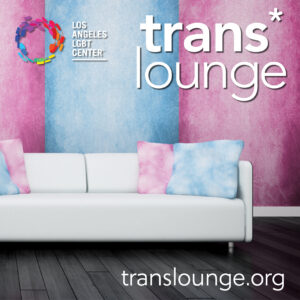 Trans* Lounge
Trans* Lounge is the Los Angeles LGBT Center's groundbreaking empowerment and community-building program for social connection and support, serving the TGI/ENBY+ (trans, gender nonconforming, intersex, nonbinary, gender expansive) communities. With 20—25 virtual and in-person groups and classes each month, there is always something fun and engaging happening at Trans* Lounge.
We offer a little something for everyone, including: spirituality workshops, support for navigating gender-affirming healthcare or exploring healthier relationships to masculinity, weekly support and social groups, access to free resources (like chest binders), and connections for navigating gender affirming care. Plus, you can join our Discord server for more constant connection. Learn more.
Trans* Lounge Member Registration
Transgender Services
Trans Wellness Center
The Trans Wellness Center (TWC) provides comprehensive resources and services for transgender and nonbinary people under one roof. Our 3,000-square-foot center is the first of its kind in the United States, with six local organizations joining forces to create this new home for radical wellness. Learn more.